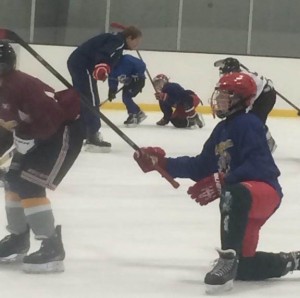 How To Start A Camp In Your Area
The information below details how to bring a Robby Glantz Int'l Hockey program to your area. Robby's resume includes: Skating Coach for the Los Angeles Kings (NHL), Atlanta Thrashers (NHL), Swedish Champs Malmo, the German National Teams and for numerous other teams Worldwide.
We are proud to have the Largest Hockey School in the USA, running over 200 Programs yearly.
Our Program is universally accepted because it is Hockey Specific, fun, and easy to comprehend.
It is the Step-by-Step Program for How to Skate Faster!
The following format for the Clinic is the most popular and inexpensive way to introduce the Program:
Our 3-Session Clinics consist of 4.5-5 total hours per group of On-Ice time (1.5-1.75 hours per session.
Please contact Robby, info@robbyglantz.com or 1-800-54-SKATE x6 for all the details, costs, potential dates, etc.
Our No-Risk Policy: There are NO UP-FRONT COSTS or deposits for your Association to pay. We are paid in full when we arrive for the camp the Day 1
The Groups should be broken up using a combination of age and skill level (Mites & Squirts and Pee Wee & Up seems to work best for a 2 Group Clinic), with a maximum of 36 players per group. However, make your break-even point for all costs at about 25 players and base your tuition price on that figure. We will provide you with the promotional ideas, posters & brochures to get you started and insure the success of the Clinic. I would like to thank you for taking the time to learn about my Skating Programs and please do not hesitate to contact me toll free at 1-800-54-SKATE x6 so that we can schedule a Clinic in your area as soon as possible.
Robby Glantz
Please feel free to call us Toll Free from the USA or Canada at 1-800-54-SKATE (1-800-547-5283) (x6 to leave a message for Robby)…. or Fax us at (818) 776-9180 or E-Mail us: info@robbyglantz.com … or hit the Ask Robby Button… and we will get back to you as soon as possible!